Homemade flatbread smells and tastes amazing. Mine is more like pita bread or naan and you can use it to make your own gyros, pizza, focaccia, or dip it into hummus. No stand mixer? Mix by hand and knead about 50 turns. And always aerate your flour before measuring.- Jenny Jones
Prep Time: 15 minutes
Cook Time: 5 minutes
Total Time: 30 minutes
Makes: Four 6-inch flatbreads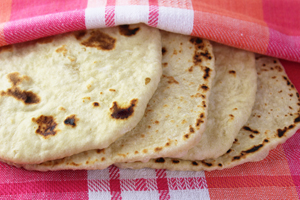 Ingredients:
1 1/4 cups all purpose or bread flour
1 teaspoon yeast (dry active or instant)
1/2 teaspoon salt
1/2 cup warm water (110° F for active – 120° for instant)
2 teaspoons olive oil
Instructions:
Place flour, yeast, and salt into a mixing bowl.
Add water and oil and beat for 1 minute.
Place dough (it will be sticky) on a floured surface and cover with a towel. Let rest for 10 minutes.
After 10 min., preheat a cast iron skillet to med-high.
Divide dough into four and shape each piece into a ball.
Roll each ball into a 6-inch circle.
Cook on ungreased hot pan about 1 minute per side.
Notes: To make whole wheat flatbread use 1/2 whole wheat and half all-purpose flour.