By Kastalia Medrano, and Andy Kryza
Summer will always be the most popular time to visit our national parks. For generations, families have flocked to our precious natural wonderlands to commune with nature…. and to crowd precarious walkways, overtake campsites, and transform serene naturescapes into theme parks. No knock on them: We've been those kids screaming on a shuttle in the Grand Canyon, and look forward to yelling at our own kids to get off their damn phones at Old Faithful. But sometimes you long to experience nature without the sound of crying children. And to do that often involves packing a really thick coat. 
Winter is a magical time for many of the parks. The trails clear. The campsites are less likely to be serenaded by a guitar-packing troubadour. Fire danger is down. And, unlike peak season, you'll feel like you have it all to yourself. These are the parks that are at their absolute best in the winter.
Zion National Park
Utah
In the summertime, Zion is basically Disneyland. It's crowded. It's hot. You're standing in two-hour lines to be able to do the one thing you most want to do that day, and they're often out of turkey legs. End this madness; go in the wintertime. Just 13% of Zion visitors journey to the park between November and March, and a wintertime desert is one of nature's most glorious settings. Even better, once you've had your fill of the park and its legendary trails, you'll be able to explore all the surrounding (and vastly overlooked) state parks unencumbered.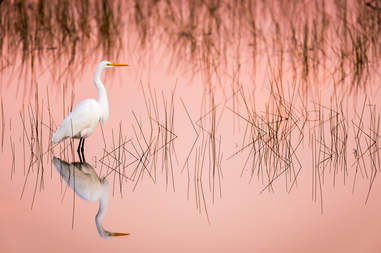 Everglades National Park
Florida
Okay, so the Everglades didn't make this list due to a reduction in crowds. Winter is actually peak season here. But that's because it's truly the loveliest time of year to visit. Temperatures are in the 60s and 70s, the suffocating bugs are thinned out and minimally predatory, and the lower water levels mean that it's easier than ever to spot alligators and spoonbills and all manner of other critters gathered around watering holes. Check out some guided tours to make the most of your visit.