Restrictions will get tougher if rules are not followed, Matt Hancock says, as £10,000 fines for those who fail to self-isolate are introduced in England.
The health secretary told the BBC's Andrew Marr show the country was facing a "tipping point and we have a choice".
The prime minister is understood to be considering a ban on households mixing, and reducing opening hours for pubs.
On Monday there will be a briefing on the latest coronavirus data led by two of the government's leading scientists.
In the broadcast, at about 11:00 BST on Monday, Prof Chris Whitty, the UK government's chief medical adviser, with Sir Patrick Vallance, the government's chief scientific adviser, is expected to say the trend in the UK "is heading in the wrong direction" with the country at a "critical point in the pandemic".
"We are looking at the data to see how to manage the spread of the virus ahead of a very challenging winter period," Prof Whitty is due to say.
Earlier, asked if England could face another national lockdown, Mr Hancock said: "I don't rule it out, I don't want to see it."
"If everybody follows the rules then we can avoid further national lockdown," he said.
In the BBC interview, he also:
Said he would call the police on people who refused to self-isolate
Denied the government was overreacting given deaths and hospital admissions remain relatively low
Said there was still hope a vaccine would get "over the line" this year
The move under consideration by PM Boris Johnson could take the form of a two-week mini lockdown in England – being referred to as a "circuit breaker" – in an aim to stem a recent surge in cases.
On Sunday, a further 3,899 new Covid-19 cases and 18 deaths were reported in the UK.
Meanwhile, visitors have flocked to Blackpool this weekend, despite police warning against having a "last blast" in the resort before tighter restrictions come into force in the rest of Lancashire on Tuesday.
Elsewhere, London Mayor Sadiq Khan has said he will meet council leaders on Monday and then recommend any London-specific measures to ministers. He believes the capital city may be just "two or three days" behind the hotspots of the north-west and north-east of England.
People in England who refuse an order to self-isolate could be fined up to £10,000 from 28 September.
The new legal duty requires people to self-isolate if they test positive for coronavirus, or are traced as a close contact.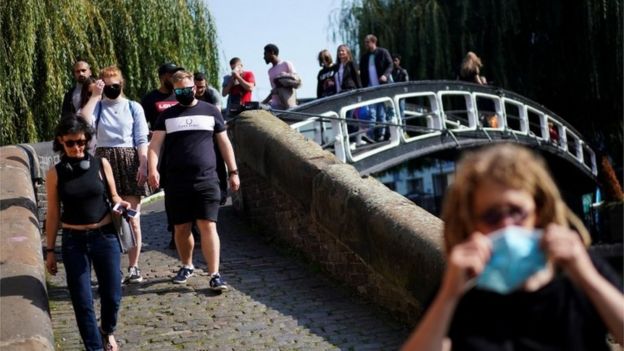 New measures also include a one-off £500 support payment for those on lower incomes, and a penalty for employers who punish those told to self-isolate.
Fines will initially start at £1,000 rising to £10,000 for repeat offenders, and for "the most egregious breaches".
Until now, advice to self-isolate has been guidance only.
More than 19,000 fines have been issued in England and Wales for alleged breaches of coronavirus laws, the attorney general said earlier this week, but more than half have not been paid so far.
The idea of introducing fines sounds good . .