Experts weigh in on whether you should cancel your dates, dinner parties, and gym sessions.
by Kaitlyn Tiffany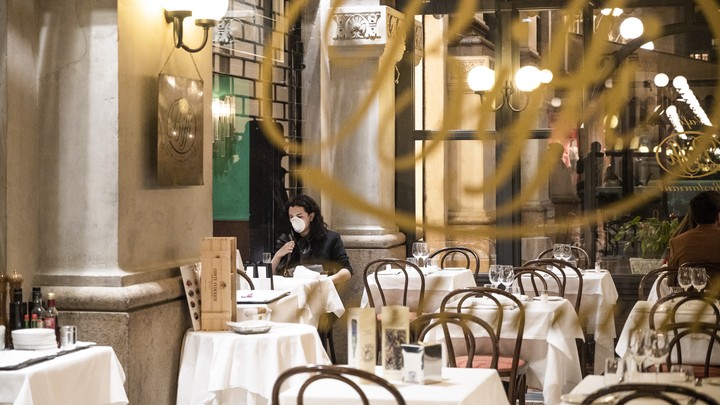 The Centers for Disease Control and Prevention has issued guidelines for "community mitigation strategies" to limit the spread of COVID-19, the disease caused by the coronavirus, which include recommendations for "social distancing"—a term that epidemiologists are using to refer to a conscious effort to reduce close contact between people and hopefully stymie community transmission of the virus.
But what exactly does "social distancing" look like for a woman trying to go about her life while staying healthy and helping keep the people around her healthy? Even detailed instructions are difficult to sift for actionable advice. If I have a fourth date tonight, do I go? If I'm invited to a wedding in two weeks in another state, is it too late to cancel? If we're on lockdown, and I live alone, can I walk to my friend's apartment when I feel sad? If I end up officially quarantined, can I walk around the park at night for some fresh air?
The CDC guidelines acknowledge factors like the size of a community, its population density, its access to health care, and caveats that social-distancing measures can "be scaled up or down depending on the evolving local situation." There are conflicting messages coming from media and people's peers: On Reddit, young people are signing a "self-quarantine manifesto" while, at a press conference, the mayor of New York City is telling people to continue visiting bars and restaurants as normal, to protect the local economy.
So I took my personal questions to a series of public-health experts. "I think it's a hard time because many of the recommendations we're making are about increasing the distance between people, but of course, being close to people is what makes life a pleasure," Carolyn Cannuscio, the director of research at the Center for Public Health Initiatives at the University of Pennsylvania said in a phone call. "So this is going to be a very difficult time. No question."
If you're confused about what to do right now, you're not alone—even these experts occasionally disagreed on the answers to my questions. Where there were discrepancies, I've included all the different answers as fully as possible, and as the situation has evolved, I've allowed the experts to update their answers to questions to reflect new information. This guide is aimed toward those who are symptom-free and not part of an at-risk group, with an addendum at the end for those in quarantine. If you are symptom-free but are over 60 years old; have asthma, heart disease, or diabetes; or are otherwise at risk, experts recommend defaulting to the most conservative response to each of these questions.
There is a general consensus that while young and healthy people who are at lower risk for personally suffering severe illness from the coronavirus don't have to be locking themselves in their homes for the next month, they do need to dramatically alter their daily lives, starting now.