Young Tech Users Push the Envelope on Social Media
by Neal Freyman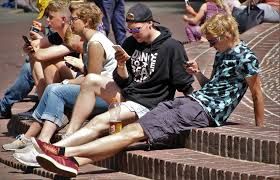 Two pieces we read this weekend reminded us that if kids really are the future, we're in good hands.
The first, from the London Review of Books: With school suspended until further notice, kids in Wuhan, China, couldn't believe their luck. That is, until an app called DingTalk entered the equation, allowing teachers to assign homework and conduct online classes.
This surely could not stand, so what did the kids do?
They knew that if DingTalk got enough one-star reviews, it would get kicked out of the App Store. So they hammered it.
Overnight, DingTalk's rating fell from 4.9 to 1.4 stars. The app pleaded on social media, "I'm only five years old myself, please don't kill me."
The second, from the New York Times: Kids on TikTok are becoming literal overnight sensations by live-streaming themselves sleeping. They're even making money, too.
One 18-year-old set up his phone camera, went to bed, and woke up with over 6,000 new followers.
On TikTok's Chinese counterpart, up to 18.5 million viewers watched one man sleep on Feb. 9.