Pollination has become big business, and thieves are now targeting hives with growing sophistication in the US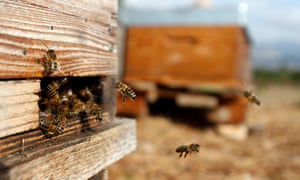 Mike Potts was aware he was at risk of being a victim of crime, he just didn't think it would happen to him. But Potts is an owner of an increasingly valuable commodity that thieves are targeting with growing sophistication in the US: bees.
A booming demand for honeybees for pollination drew Potts, owner of Pottsy's Pollination in Oregon, to load 400 hives of his bees on trucks and drive them down to California's agricultural heartland last month. He unloaded them to a holding area just outside Yuba City and returned just a few days later to find 92 hives had been whisked away by thieves.
"I pulled in the yard and noticed that there was some stuff missing," said Potts, who estimated the theft cost him $44,000. Police subsequently pulled over three suspicious beekeepers traveling late at night, to no avail. "I've heard that there had been some stealing but didn't think it would happen to me. It's frustrating because it's getting harder and harder to keep bees alive. And then you transport them down and they just get taken."
The theft is the latest in a string of beehive heists, often undertaken at the dead of night using forklifts and trucks. Hives are regularly split open or dismantled, interventions that can kill tens of thousands of the kidnapped bees. The problem has become severe enough in California that certain police officers now specialize in hive crime.