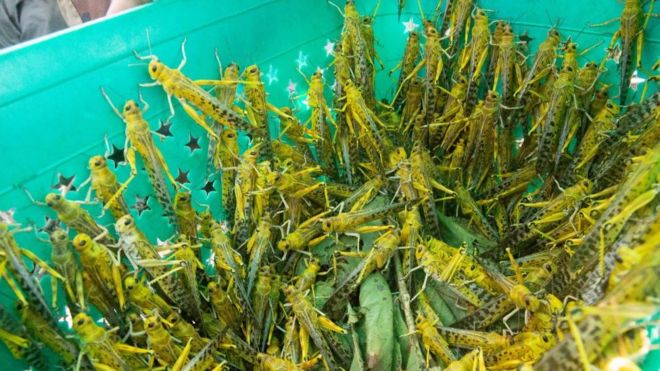 Swarms of desert locusts that have been devouring crops and pasture in the East Africa region have spread to South Sudan, the UN food agency says.
Several million South Sudanese are already facing hunger as the country struggles to emerge from a civil war.
The UN has warned that a food crisis could be looming in East Africa if the outbreak is not brought under control.
The US Secretary of State Mike Pompeo has pledged $8m (£6m) to help fight the invasion on his visit to Africa.
Mr Pompeo was speaking after talks with Abiy Ahmed, the prime minister of Ethiopia, which along with Somalia, Kenya and Uganda, has been hit by the pests.
The invasion is the worst infestation in Kenya for 70 years and the worst in Somalia and Ethiopia for 25 years.
Efforts to control the locust infestation have so far not been effective. Aerial spraying of pesticides is the most effective way of fighting the swarms but countries in the region do not have the right resources.
There are now fears that the locusts – already in the hundreds of billions – will multiply further.
'Reconnaissance mission'
The Food and Agriculture Organization (FAO) said about 2,000 adult insects had entered South Sudan via Uganda into the southern county of Magwi.
"These are deep yellow, which means that they will be here mostly looking at areas in which they will lay eggs," the AFP news agency quotes FAO South Sudan representative Meshack Malo as saying.