When the terrorist attacks happened, trivial decisions spared people's lives—or sealed their fate.
by Garrett M. Graff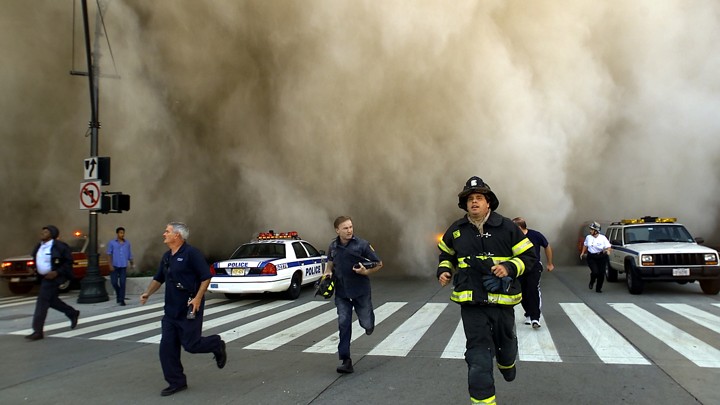 Joseph Lott, a sales representative for Compaq computers, survived one of the deadliest days in modern American history because he had a penchant for "art ties," neckties featuring famous masterpieces. "It began many years earlier, in the '90s," he said in an oral history with StoryCorps. "I love Impressionist paintings, and I use them as a way to make points with my kids. I'd put on an art tie, and then I would ask my kids—I have three daughters—I would say, 'Artist identification?' And they would have to tell me whether it was a van Gogh or a Monet, and we would have a little conversation about the artist."
On the morning of September 11, 2001, he had put on a green shirt before meeting colleagues at the Marriott hotel sandwiched between the Twin Towers, in advance of speaking at a conference that day at the restaurant Windows on the World. Over breakfast, his co-worker Elaine Greenberg, who had been on vacation the week before in Massachusetts, presented him with a tie she'd spotted on her trip that featured a Monet.
"It was red and blue, primarily. I was very touched that she had done this," Lott explained. "I said, 'This is such a nice gesture. I think I am going to put this on and wear it as I speak.' She said, 'Well, not with that shirt. You're not going to put on a red-and-blue tie with a green shirt.'" So when breakfast was done, his colleagues headed up to Windows on the World, located on the 104th floor of the North Tower, and Lott went back to his hotel room to change shirts. He ironed a white one, put it on, and then headed back down toward the hotel lobby. "As I was waiting to go from the seventh floor back down to the lobby and over to the bank of elevators that would take me to the top, I felt a sudden movement in the building," he recalled.
Lott would escape the World Trade Center complex that day. Elaine Myra Greenberg, 56, a New York financial consultant, a season-ticket holder to the Metropolitan Opera, the "cool aunt" to her nephews and nieces, would not.